Villa Layout
Villa Sapi rests within an expansive coconut-grove garden and comprises a main single-storey residence with a 21m swimming pool and a children's pool, plus a stand-alone guest pavilion with two more swimming pools, set well away from the main house. Also within the villa's grounds are a floodlit tennis court and a lumbung (traditional rice barn) massage pavilion.
The main building is entered via a timber pathway, lined with fire torches. This leads past a feature wall of bamboo and a cascading wall of water. Running parallel to the beachfront, the main building incorporates the living and dining areas, kitchens, four of the six bedrooms, and the home theatre.
The guest pavilion is built into a manmade hill capped with grass, and presents an open-sided sitting area and two bedrooms, one of which is semi-subterranean. Both bedrooms are complemented by a deck and a private swimming pool.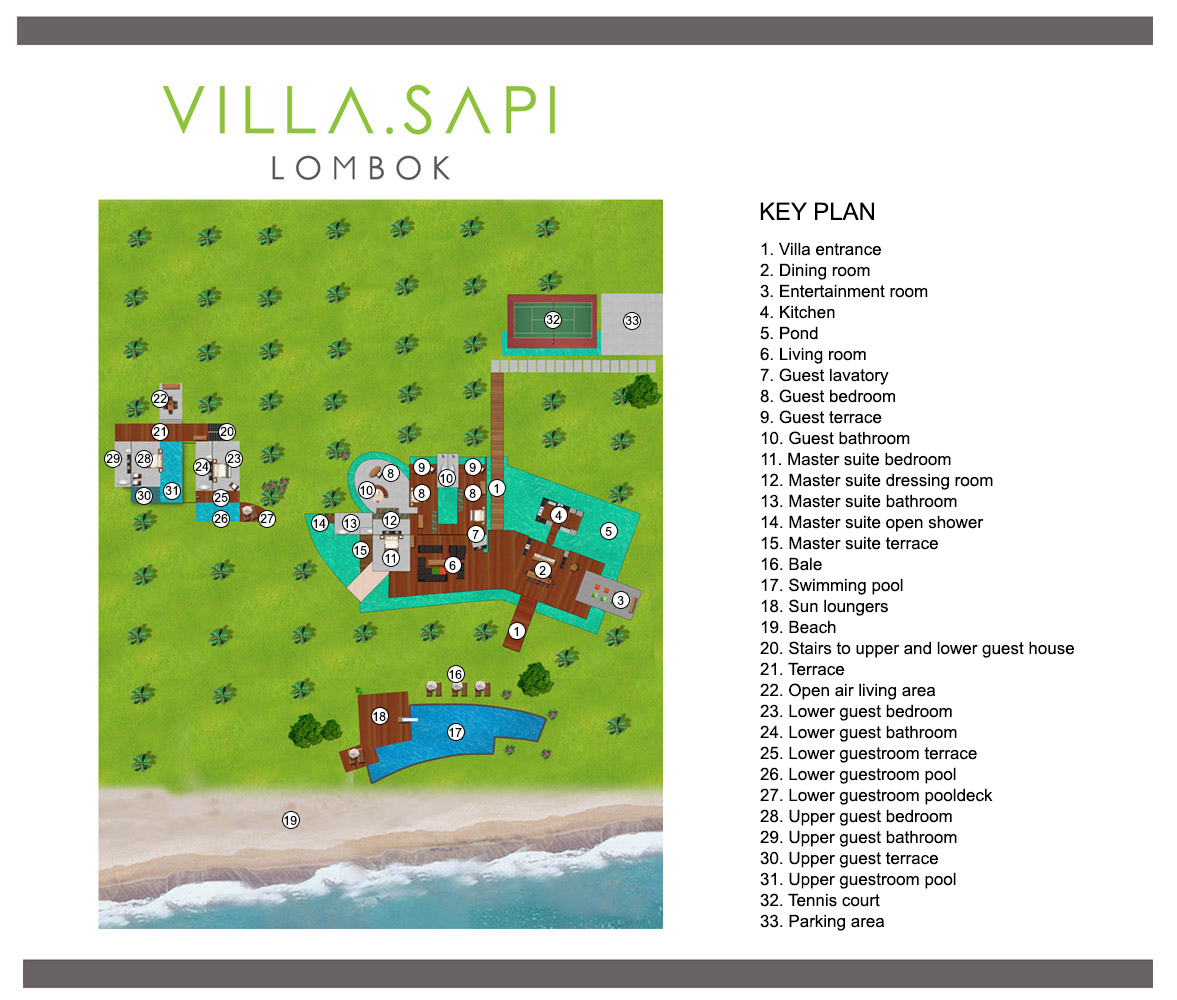 Download in high resolution
Living areas

Indoor living
Villa Sapi's living and dining areas lie below the soaring roof of an open-fronted pavilion.  The sitting area is furnished with plentiful sofas and ottomans crafted in coconut shell veneer.  In the dining area, an impressive wooden table eats 14.  There's a second sitting area at the guesthouse, with six comfy chairs and a solid wood coffee table.
The villa's two kitchens are connected via a bridge over an ornamental pond.  The guest kitchen, which is adjacent to the dining area, features a service bar crafted in resin and lit by three original 'Campari Light' suspension lamps, and is equipped with a Nespresso coffee maker and a five-burner gas hob and oven.  Behind the guest kitchen is a state-of-the-art staff kitchen, fully equipped with professional appliances.
The extraordinary 'space-age' home theatre is wrapped in bamboo and appears to hover above the ground.  With its sides of glass and heavy sliding door accessed via a solid stone step, this unique building features funky ceiling lamps and a polished concrete floor upon which ten bright beanbags are arranged for comfortable viewing.  A large flat-screen satellite-channel TV with surround-sound is positioned at the far end of the room.
A thatched lumbung (traditional rice barn) featuring ornate carvings and wooden shutters and furnished with two massage beds serves as a fan-cooled spa room in the garden.  A washroom is positioned next to the lumbung, its curved roof planted with grass and its rustic shower, crafted from bamboo, open to the sky.


Outdoor living
The main swimming pool extends for 21 metres between the beach and the main house. It is deep enough to dive into and has a springboard for that purpose. Sunloungers rest upon the grassy deck and a modern flat-roofed balé (relaxation pavilion) sits at one end. Running alongside the main pool is a shallow (80cm-deep) children's pool. Two more swimming pools serve the guesthouse on two different levels, both of them are bordered by small timber decks.
Dotted with dozens of towering coconut palms, the garden fronts onto the beach and is so huge that guests will have no problem escaping to private areas. A wooden structure in one corner of the grounds serves as an elevated, sheltered platform for watching tennis on the adjacent, floodlit court.

Bedrooms

Bedroom 1
Villa Sapi's master bedroom is accessed from the living room via an unusual swivel door. Cooled by both air-conditioning and ceiling fan, this spacious room features concrete floors and white walls adorned with artwork.

A king bed with coconut-shell veneer takes pride of place, while floor-to-ceiling windows look out over an ornamental pond against a backdrop of garden and sea. The ensuite bathroom presents three distinct areas, one of which contains clothes storage and a twin vanity. The main bathroom area features circular skylights that channel the sunshine and moonlight, a multi-faceted shower and a bathtub next to a picture window that looks out towards the ocean. Beyond this, a rain shower stands open to the tropical elements in the garden.
Bedroom 2
Also located off the living room, this air-conditioned and fan-cooled guest bedroom is ideal for kids or a young family with its king-size four-poster bed that neatly incorporates a large trundle bed below its frame. This wooden-floored room is also furnished with wardrobe storage and a funky blue chair which hangs from the ceiling.

The ensuite bathroom is fitted with a resin-topped vanity unit and features an outdoor shower screened for privacy. Doors slide open from the bedroom onto a private terrace where a furnished deck lies beside a pond overlooking the garden.


Bedroom 3
Similar to bedroom 2 in size and layout, bedroom 3 is furnished with a king-size bed crafted in coconut shell which 'floats' above a sea of white pebbles. A sliding door opens to an ensuite bathroom fitted with a vanity unit embedded with colourful guitar plectrums and an outdoor shower screened for privacy.

This bedroom also has its own private terrace, accessed from the bedroom, which features a furnished deck beside a pond with garden views.
Bedroom 4
There are two urban-chic air-conditioned bedrooms in the guest pavilion. One of these, on the same level as the sitting area, features polished concrete floors, walls and ceiling. It is furnished with a king bed, a desk and fitted wardrobes. Glass doors slide open to a sheltered wooden deck beside a private swimming pool.

The ensuite indoor bathroom has a tub facing the sea and a single vanity unit. An outdoor 'bamboo pipe' shower opens to the garden.
Bedroom 5
A flight of stairs in the guest pavilion descends to a semi-subterranean bedroom with a steeply curved concrete roof. Despite its unusual situation, the room is filled with plenty of natural light courtesy of a wall of glass opening to a second private swimming pool where sunbeds rest on a timber deck.

Furnished with a king bed featuring decorative white pebbles underneath, this air-conditioned bedroom has a huge walk-in wardrobe and a sitting area next to the glass doors. The ensuite bathroom has a tub facing the sea, a single washbasin and an alfresco poolside rain shower, sheltered by a roof and sheer white curtains.
Bedroom 6
The air-conditioned oval bedroom also functions as a study or office, and is characterised by curved walls of white stone and glass.  This garden view room is furnished with a king-size bed, as well as a centrally positioned desk, and is accessorised with funky lights and black and white framed photographs.  Within its space is a concrete 'funnel' housing a shower room lit from above by a skylight.